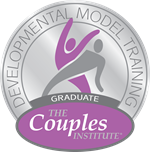 It energizes me to work with couples to break stuck patterns and discern the growth edges that help relationships grow. I start by assessing each couples' developmental stage, strengths, and weaknesses. With that assessment, I design interventions that address places of stalled out development and/or couple gridlock. I help clients learn how create individual goals for growth that support the couple work while providing new ways of relating to each other.
The Enneagram wisdom tradition is a personality typing system that I use as a framework for helping couples see and appreciate differences. My couples who learn this framework during therapy with me wind up using this far beyond their time in treatment. I believe it to be one of the most helpful tools for growth available.
High Conflict, Distressed Couples
I have a particular affinity for working with high-conflict couples. Quite often, stuck fight dynamics reveal much about the developmental stage of the couple and the underlying messages and hurts that are unresolved.
Couples with an Anxious Partner
Many couples struggle to know how to navigate their relationship when one or both of the individuals struggles with anxiety. My depth of training treating anxiety disorders combines with my love of working with couples for a particularly satisfying niche of work for me.
Individual Therapy for Couple Concerns
It is not unusual at all for one person to be more than ready for couples therapy while their partner is not interested at all. A lot of really solid relationship work can begin with just one willing partner. I often tell my clients that any dynamic will change if one person changes their part. Finding your way to the best responses to your partners takes solid individual work. I welcome those who would want to tackle it.
Many couples get to a place in their marriage where one or both of them are no longer sure they want to work on their marriage. These couples benefit from a type of counseling that allows for that ambiguity and helps couples navigate the difficult decision of
whether
to try counseling.
Discernment counseling
is specifically designed to help couples analyze what has gone wrong in the relationship and then decide in a civil and grounded way whether to move towards separation or commit to a time in counseling.